Flooding is the most frequent, damaging, and costly natural hazard experienced in Vermont. Flood damage is frequently experienced on a localized scale, when Tropical Storm Irene struck Vermont on August 28, 2011; however, flooding and damage were experienced on a statewide scale. Four to eight inches of rain rapidly fell throughout the state and rivers and streams flash flooded to levels only comparable to the Great Flood of 1927. More than 500 miles of road and 200 bridges were wiped out, a dozen communities were entirely isolated and over 1,600 homes were damaged and 700 completely destroyed. At great price, Irene exposed Vermont's vulnerability to disasters of this nature.
This project grew out of an ES 401 project undertaken by a group of seniors in the Environmental Studies program at Middlebury College in the spring of 2012. The intent of this project was to use TS Irene as an opportunity for Vermonters to learn from the events of this disaster by creating interactive maps of the flood damage in the case study towns of Rochester, Hancock, Pittsfield, and Plymouth. All of the available data about damage to roads, bridges and homes was collected and mapped with the FEMA flood zones, the Fluvial Erosion Hazard Areas (FEH), the Stream Geomorphic Assessments (SGA), and the watershed information.
Over the summer of 2012 I (Morgan Boyles) worked on an internship with Ned Swanberg, the Flood Hazard Map coordinator at the Agency of Natural Resources, and Bill Hegman, the GIS Specialist/Teaching Fellow at Middlebury College, to expand the work of the ES 401 Senior Seminar. The primary goal of this project was to make clear, easily accessible maps of case study areas that spatially represent the damage and the factors that contributed to it.
To do this I worked to complete the database of TS Irene damage to roads and bridges started in the ES 401 project and expand this database to the town of Pittsfield and homes that experienced severe damage during Irene. Then interactive web maps of the damaged areas, the flood hazard zones, watershed attributes, and case study sites.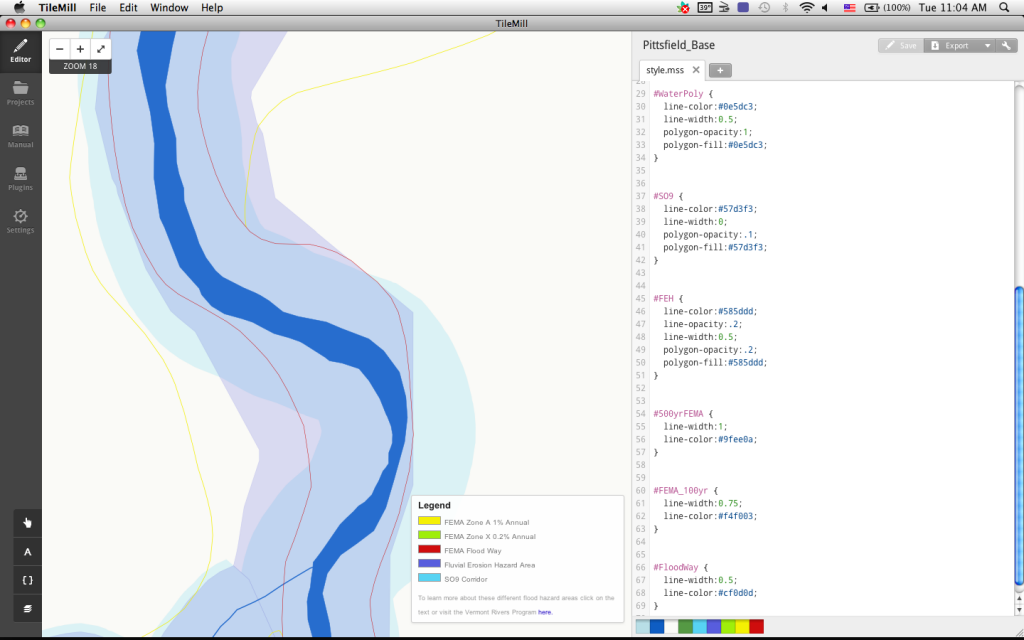 The web maps were created using a new open source web mapping software called TileMill. By using this software to make easily to use web maps a great amount of geographic data can be viewed with a web browser forgoing the need for expensive proprietary software and GIS training.
Special Thanks
This project would not have been possible without the work of my classmates in the ES 401 seminar (especially Sam Saffran who I built the first database with) our instructors Dan Brayton and Diane Munroe.
Over the summer Bill Hegman's help was crucial in helping guide and focus my project (and remind me to enjoy a beautiful summer in Vermont!)
At the Agency of Natural resources Ned Swanberg, Gretchen Alexander, Sasha Pealer, Heather Kennedy provided great guidance, data, and input to my project.
Bill Morris of Geosprocket in Burlington graciously helped me with many of my .html and .css coding dilemmas.
This project was made possible through a stipend from Middlebury's Education in Action fund and the Robert Churchill memorial internship fund.
About me:
I am an Environmental Studies Major at Middlebury College. I grew up in Colorado (in a flood zone) where I grew to love rivers through my passion for white water kayaking. This project provided an excellent opportunity for me to combine my love for rivers with my ES education and my interest in making interactive maps. Please e-mail me with any questions about the maps at morganboyles (at) gmail.com